DOELINGS
Look for more info on Dam and Buck pages

OllieMae Farm TS Belle Watling
DOB 3/12/22
Doeling

$500
ADGA registered, show quality, CDT vaccinated and on a Coccidia preventative regimen. Her dam - 4*M OllieMae Farm RF Stella Blue is very long and dairy, great spring of rib, buttery soft udder texture, great medial with easy to hand milk teats. Sire is Ilenes Rascals WP Tomo San, son of 3*M Urban Acres HK Trilli
(6th as a 4yr old milker at the 2021 National ADGA show)

DOB 3/12/2022 1 of Quints 3D 2B (1 sister retained)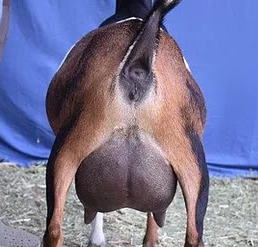 Dam: 4*M OllieMae Farm RF Stella Blue

Sire's Dam: 3*M Urban Acres HK Trilli

OllieMae Farm TS Scarlet OHara
Doeling $500
SOLD!



minimum moonspotting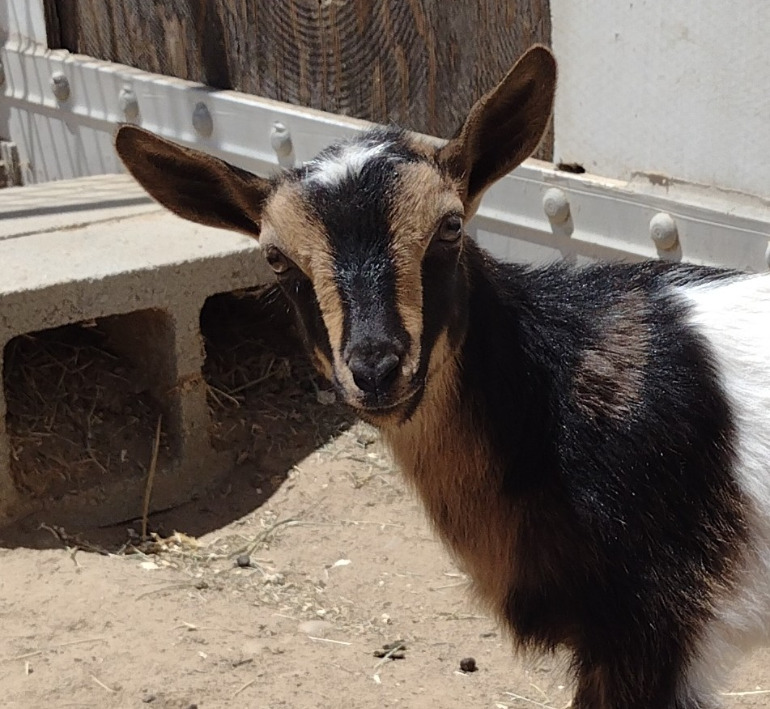 Littermate sister to above doeling 'Belle'

OllieMae Farm TS Eclaire
Doeling $600
SOLD!



DOB 5/5/2022

This little darling is one of quints, 2B and 3D.
Dam is Lil Miss B Haven Solomons Magic, currently on her first year of milk testing. Her dam Lil Miss B Haven Bewitched was 2019 Nationals 8th Place Yearling Milker
Sire is Ilenes Rascals WP Tomo San, son of 3*M Urban Acres HK Trilli
(6th as a 4yr old milker at the 2021 National ADGA show)


OllieMae Farm TS Crepe Suzette

$600



DOB 5/5/22

Littermate sister to above doeling 'Eclaire'
I originally intended to keep this one, but decided on her sister Peach instead.

Suzette is a gorgeous doe, red and white with random moonspots.
Long, level and very dairy.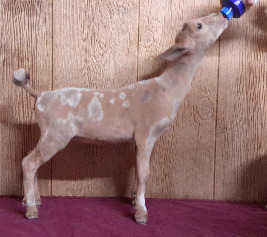 Snowbell Farm C Spotti Dotti
$600
DOB 3/5/2022



An OllieMae Farm BB Salt Peanuts daughter by OllieMae Farm HB Chladni. A moonspotted combination of J-Nels DH Be Bop and Algedi Farm DJ Higgs Boson lines. Originally intended to keep this doe but we already have several 'Peanut' daughters and need to cut back on numbers to prepare for relocation of the farm.

Lots of length, dairyness, brisket extension and excellent topline. Lots of width between the hocks. This doeling shows lots of promise. Calm easygoing personality like her dam who is our best showmanship goat.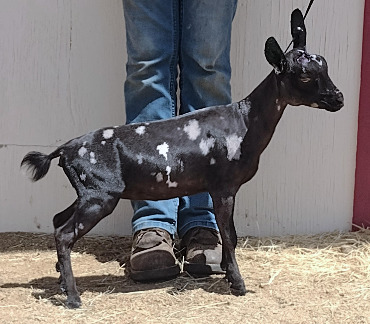 Dam's 2nd freshening udder.

OllieMae Farm JM Hazelnut
$500
DOB 2/15/2021

J-Nels DH Be Bop granddaughter here! Hazel is a beautiful doe with great length and dairyness. She's wide between the hocks, has beautiful brisket extension and a long feminine neck. See the doe page for pics of her dam Peanut. She does have a few random moonspots.

SHOW RECORD
6/12/2021 Motherlode Dairy Goat Association - Sr Kid - 4th in rings #1 & #2
8/22/2021 Redwood Empire Dairy Goat Association - Sr Kid - 2nd place in ring #3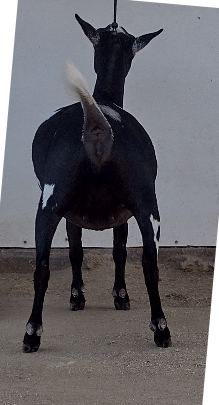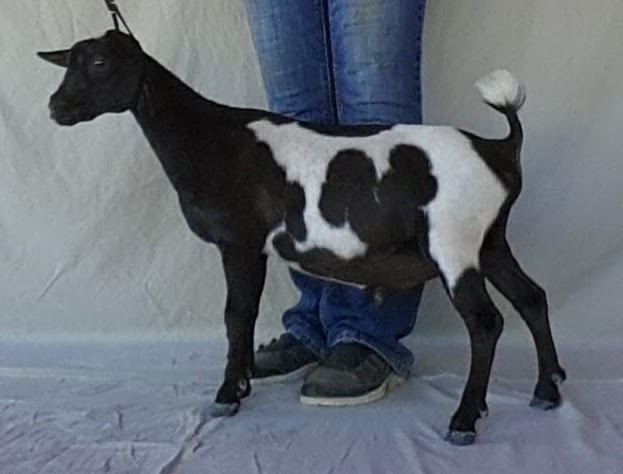 Sire - ILENESRASCALS SD JAGERMEISTER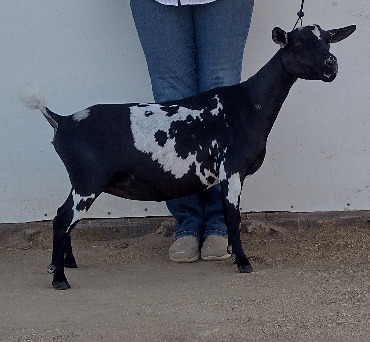 For some reason all of her photos this day made her appear weak in the knees. She is definitely not. A video will be provided upon request to verify.

MoneyPit Farms$$ JK Marigold
For Sale $500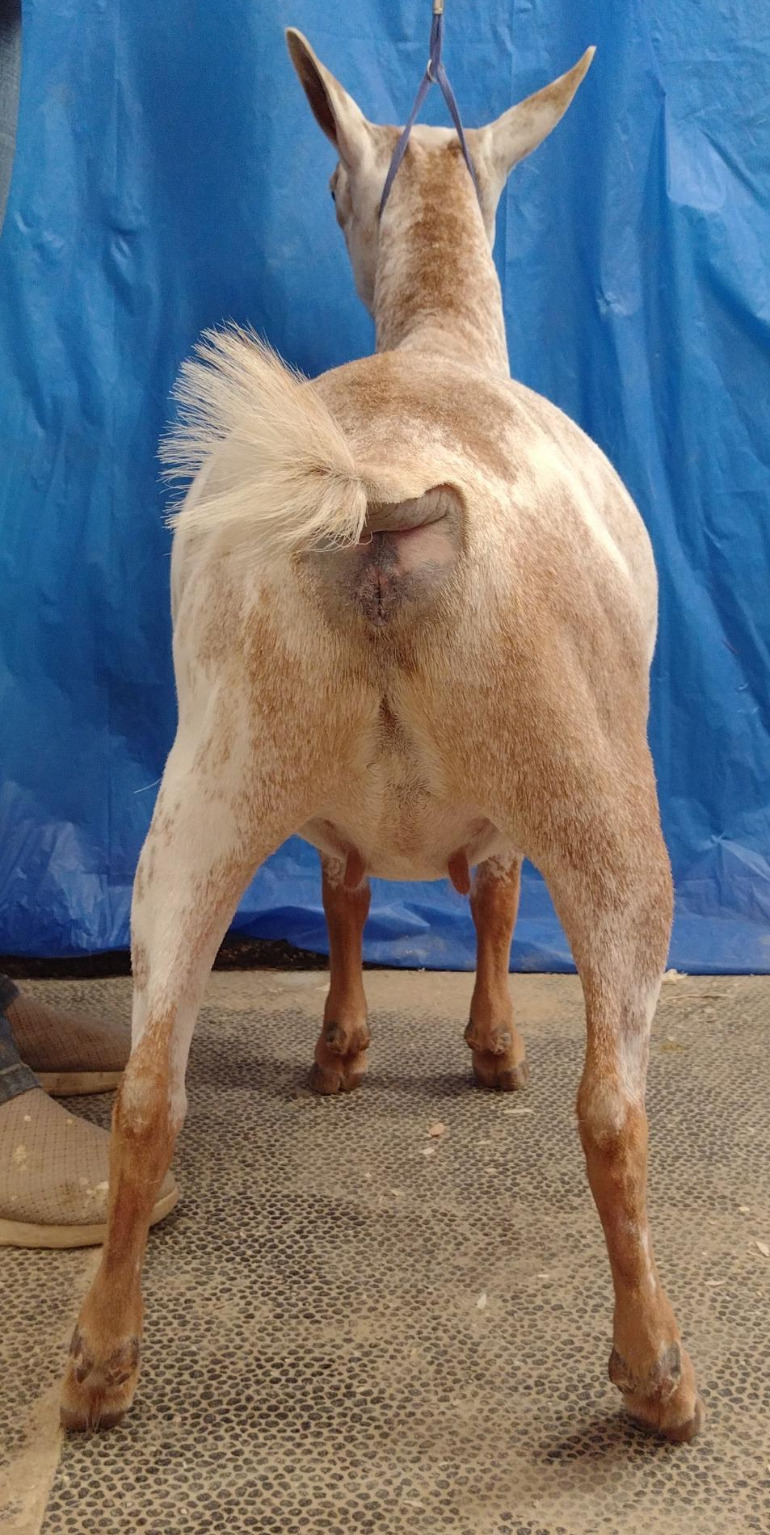 This is a beautiful little red and white doe out of a very productive doe from MoneyPit Farm. Level topline, smoothly blended and quite fancy. Tough cuts are required to keep numbers down.
Her sire is Grass Valley Jack O'Lantern by Lil Miss B Haven Trick or Treat ( A Wood Bridge Farm Hocus Pocus daughter)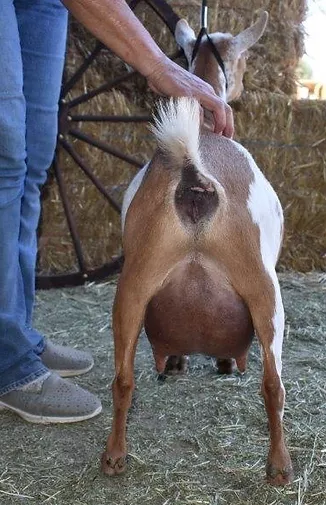 Dam - PaxsonKDZ LB MarshaMello 1*M
Photo courtesy of Money Pit Farm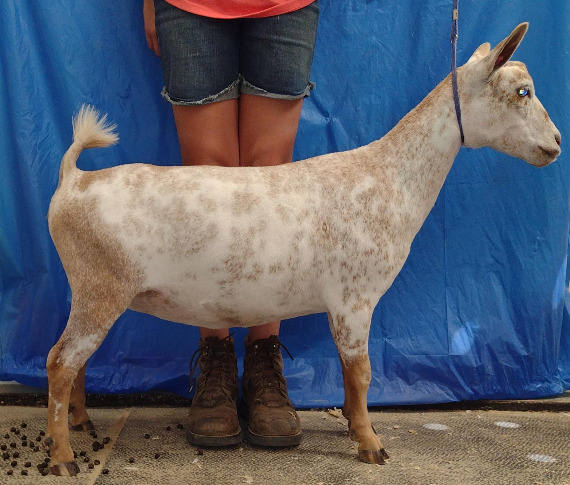 $100 each or $175 for both DOB 3/5/2022

"Gangster" P12

Both are super friendly and on the bottle. Bring them back at 12-14 weeks and I'll band for free. Sold without papers, CDT vaccinated, coccidia preventative & feet trimmed and disbudded.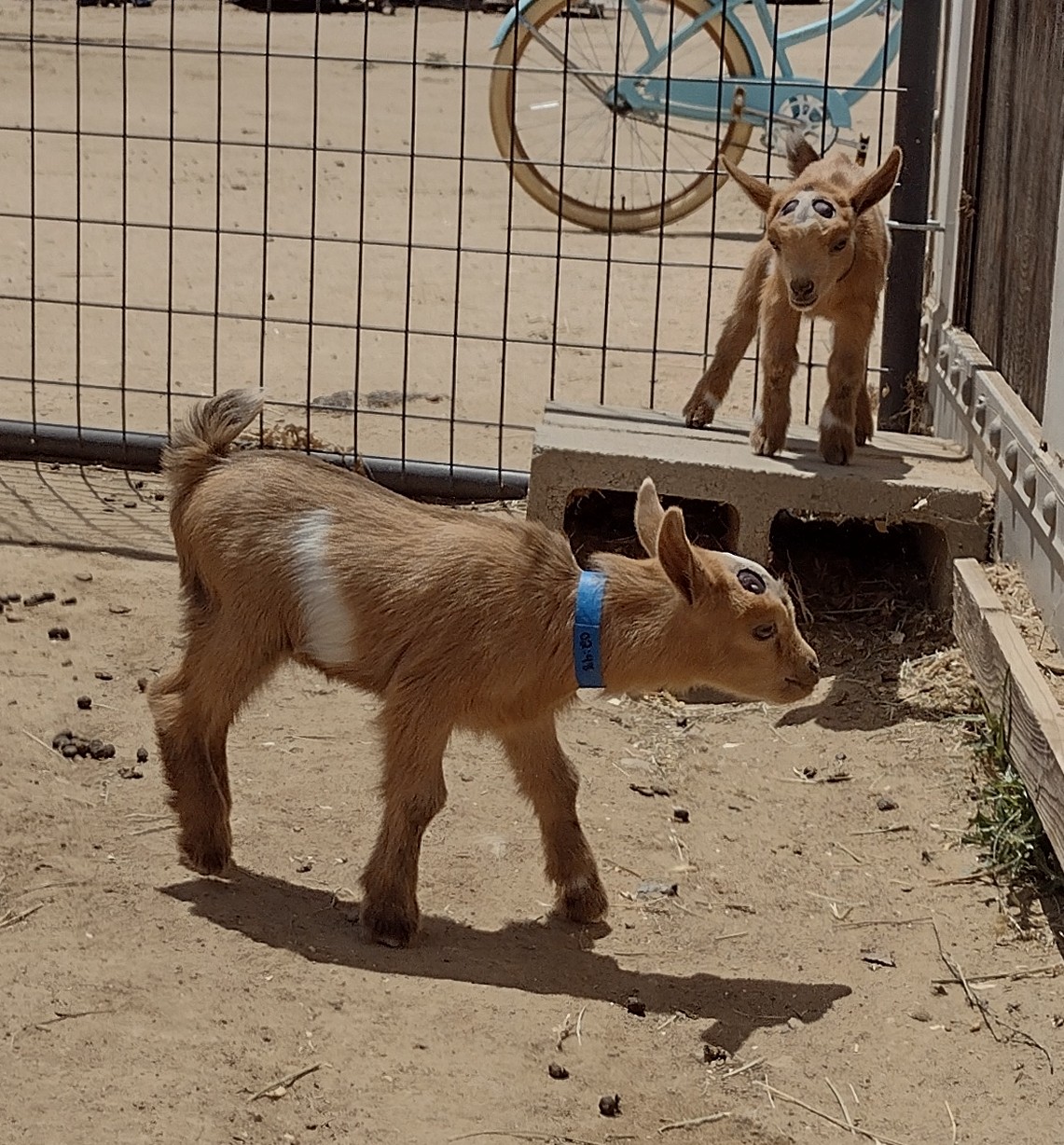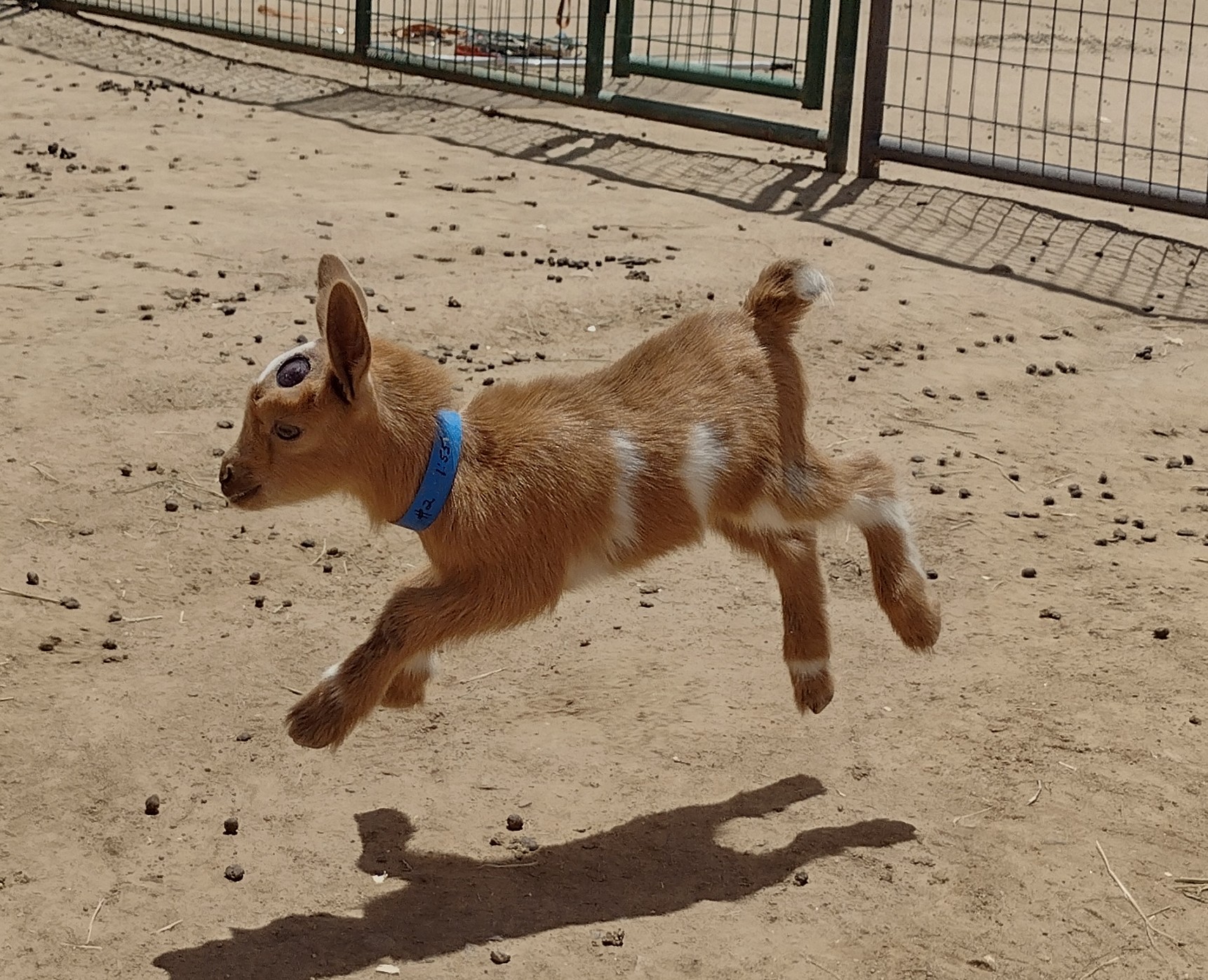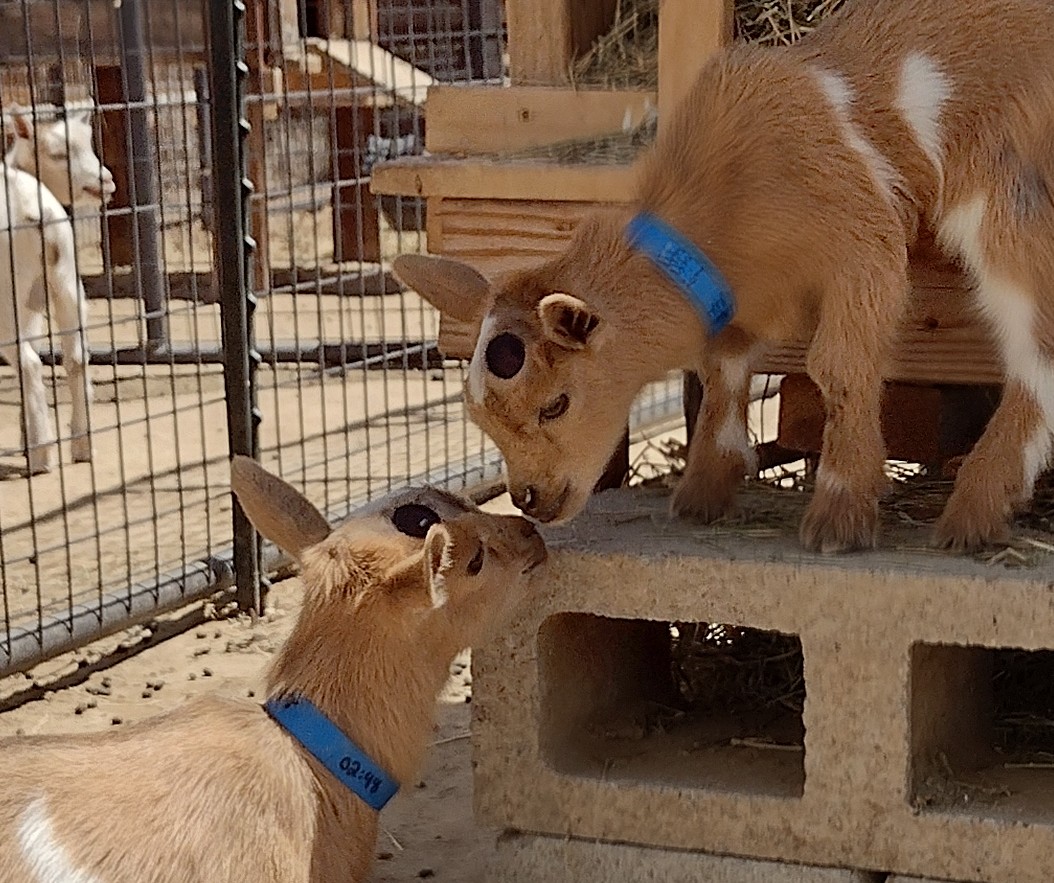 *B OllieMae Farm HB Chladni (AI)
$600
DNA on File
DOB 2/16/2019


'Chad' is a top notch gentlemen as well as handsome. An AI son of *+B GCH Algedi Farm DJ Higgs Boson EVE 90. His progeny speaks for itself in a huge list of accomplishments! Front legs right under prominent withers, uphill and deep chested with a straight long back and open escutcheon. Chocolate Sundgau for color with slight roaning. He has been related to many in my herd and as a result, hasn't been used much. His dam Stormy is listed on the Doe page and has a fantastic mammary. Top notch pedigree with Urban Acres and Algedi Farm genetics. See buck page for more info and pedigree link. (He is over height and front feet toe out slightly)

I did have him for sale last year but pulled him off the list thinking I would use him after all. Now I need to make room for new bucks arriving. I hate to see this good boy go.

Sire: *+B GCH Algedi Farm DJ Higgs Boson EVE 90
Dam: 3* M SG Urban Acres MS Storm Sonata
VEEV 89
Dam's udder - Urban Acres MS Storm Sonata