Does
Click on Pictures to enlarge
3* M SG Urban Acres MS Storm Sonata
VEEV 89 DOB 2/28/15 DNA typed B/B Alpha Casein
Sire: *B CH Camanna LI Moonlight Symphony V+VV 86
Dam: SGCH 2*M Urban Acres WC Rainy Day VEEE 90

Stormy received her Superior Genetics status in 2019. I really love this girl! She just loves to show. She is nice and wide through the rump and hocks, scores very high on foreudder, udder height, arch and produces the same. Her Dam SGCH URBAN ACRES WC RAINY DAY excels in Strength, Dairyness, rump width, foreudder attachment, rear udder height and scored a 40 rear udder arch! Stormy has shown her capacity to pass this rump width onto her kids with OllieMae Farm Life is A Hiway (buck) also scoring a 40 in rump width at 1 yr.
Stormy's paternal granddam MOONLIGHT SONATA is very dairy and feminine exhibiting great rear leg angulation, and a capacious udder with broad attachments. She has managed 3 Grand Champions, 4 Best of Breed and 3 Supreme Best Udder wins. In 2015, Sonata scored EEEE91 on LA as an 8 year old with E's in Rump, Legs, Shoulders, Back and Head with a bonus of 39 in rear udder height and a 34 in Udder Arch.
Stormy's full sister GCH URBAN ACRES MS AME KURO VVEE 89 at 3 years had multiple show wins and scored a 43 in rear udder height and a 44 in rear udder arch. You can see these udder genetics run deep.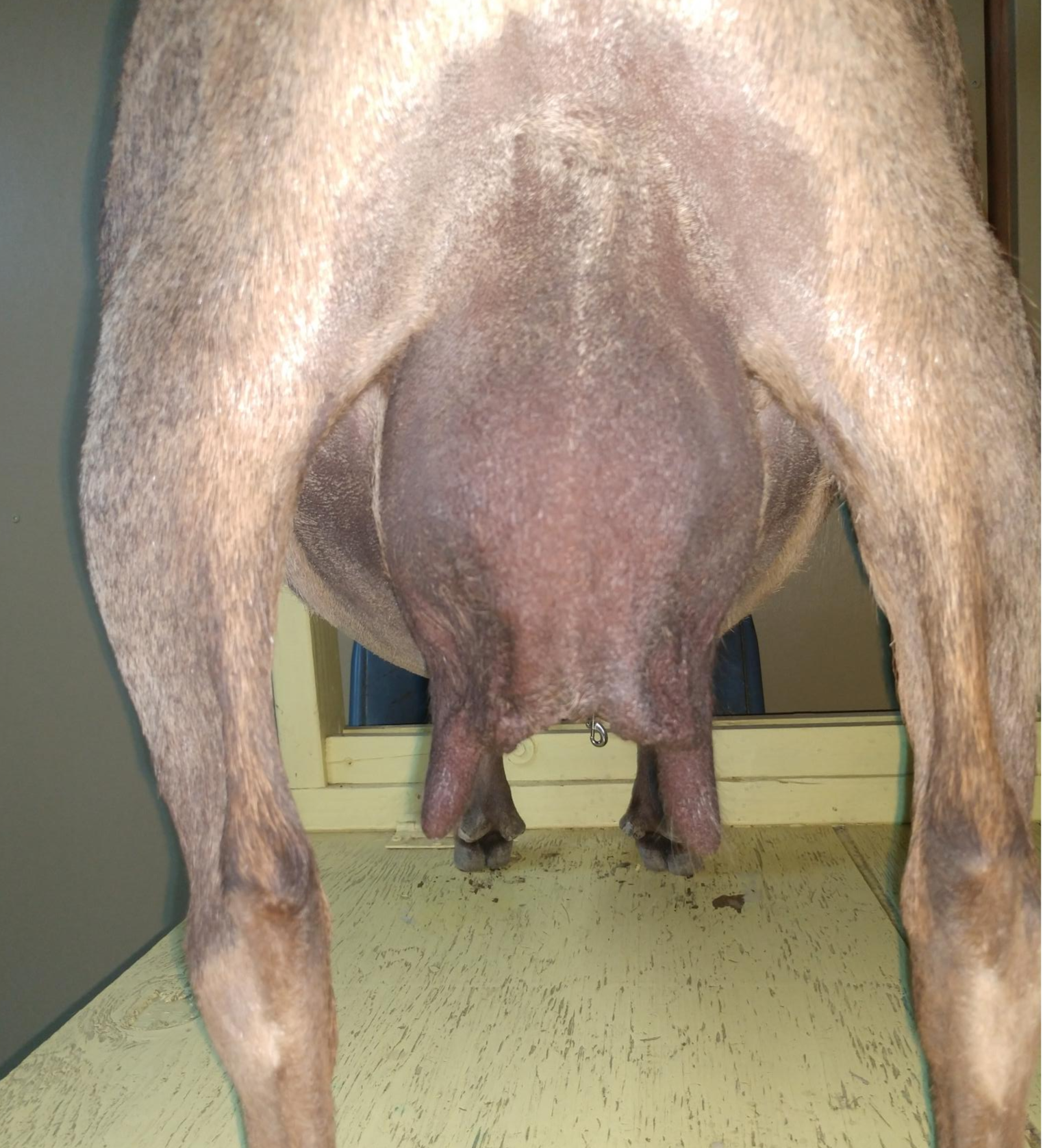 Lil Miss B Haven SolomonsMagic
DOB 4/7/2019
Sire: Agape's Prize Sulaymaan Quinn
2019 ADGA Junior Get of Sire
SD: CH Wood Bridge Farm Leviandiamond VEEE 91 (2019 Nationals 10th place 4 yr old Milker)
SS: +*B Old Mountain Farm Keidan Quinn +EE 88

Dam: Lil Miss B Haven Bewitched
2019 Nationals 8th Place Yearling Milker
DD: SGCH 1*M Wood Bridge Farm Hocus Pocus VVEE 90
(2019 Nationals 11th place 3yr old Milker)
DS: Wood Bridge Farm Bearnecessity

I am so excited to add 'Magic' to the herd. I have long admired Wood Bridge Farm and Old Mountain Farm stock and when I showed behind Wood Bridge Farm Hocus Pocus at the Motherlode show in 2018, I knew I needed to add these genetics to my herd. The 2019 Nationals proved the point. These lines consistently produce a balance of dairyness, femininity, strength, attachment of mammary, capacity and production.
Bewitched is a first freshening daughter of Hocus Pocus and shows the consistency of a well attached, globular udder these lines are famous for. I look forward to seeing this beauty mature.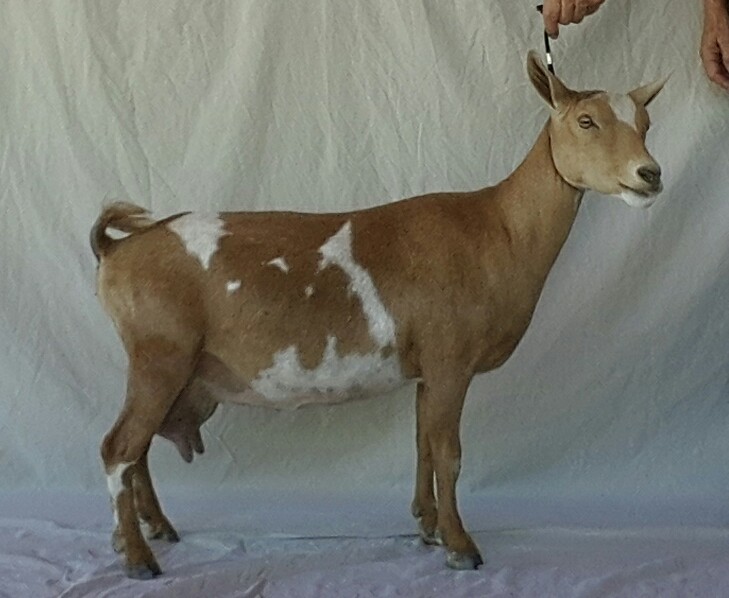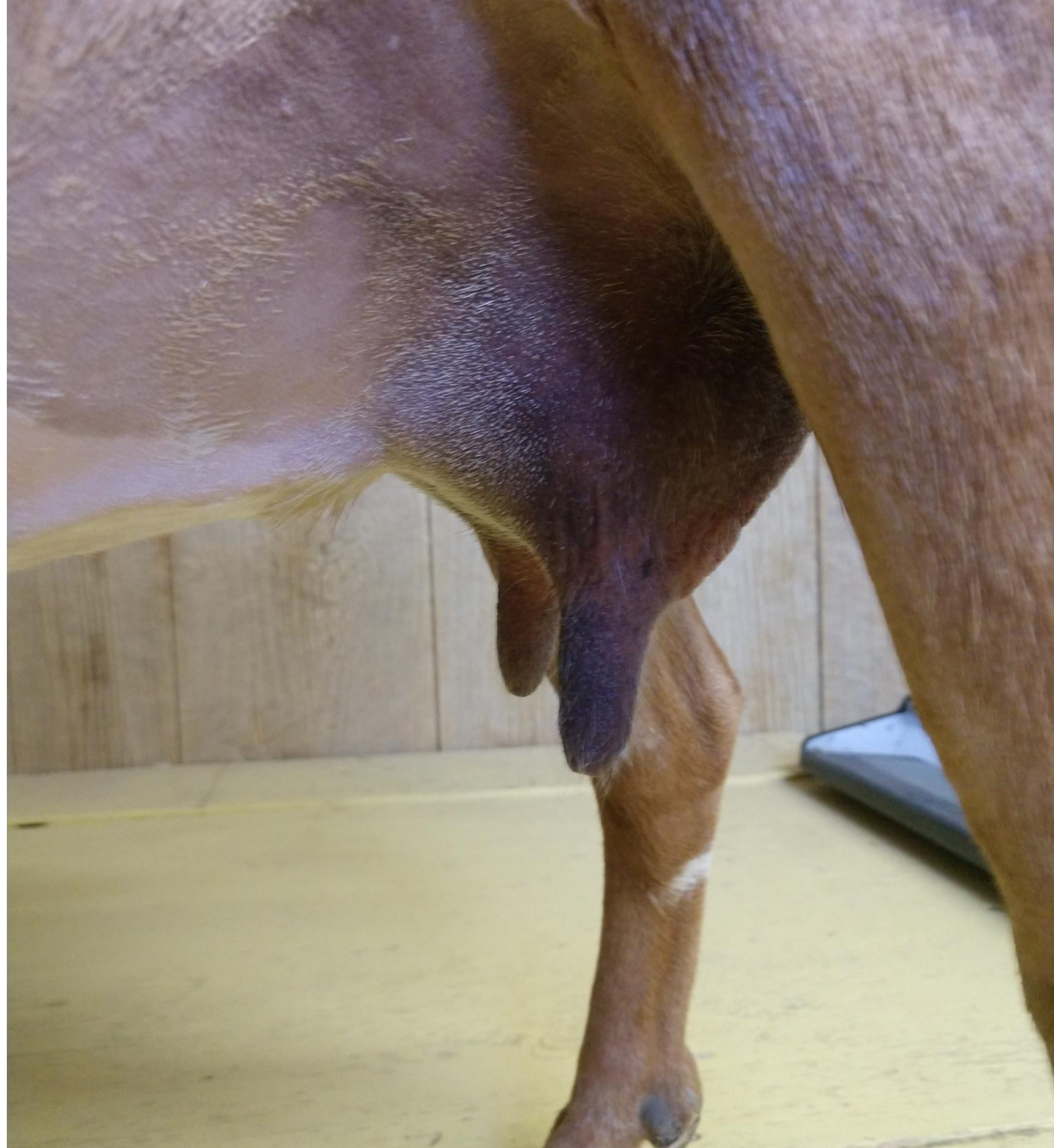 OllieMae Farm BB Salt Peanuts
DOB 2/6/2019
Sire: *B CH J-Nels DH Be Bop +EE 86
SS: +*B GCH Algedi Farm DJ Drops of Honey
SD: 2*M SGCH J-Nels ER Dumplin VEEE 90

Dam: 1*M OllieMae Farm Lotus Elise +VV+ 83
DS: *B Castle Rock Big City Nights +VE 85 (OH)
DD: Castle Rock Wild Wheels R4Gals
Peanut is another retained AI doeling and wow, I am really loving this girl! Her dam's length and dairyness combined with Be Bop's correctness has really put this girl to the top.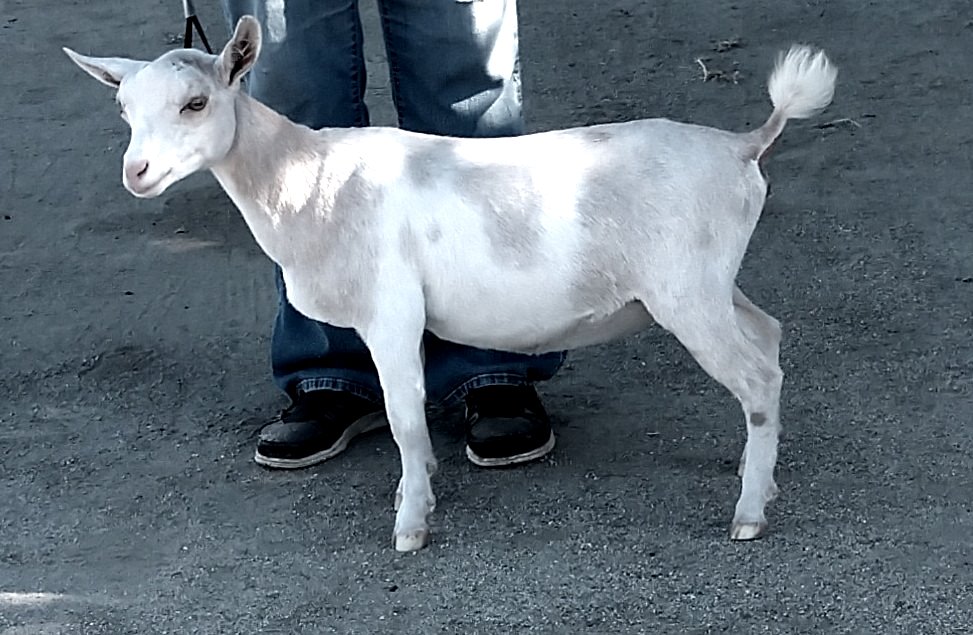 Show record:
As a Senior Kid
2019 Santa Barbara Show: 2 rings - 3rd of 18 & 4th of 16
2019 Mid State Dairy Goat Show: 2 rings -
4th of 17 & 2nd of 17
2019 Kern County Fair: 1st place
OllieMae Farm Dust in the Wind (Dusty)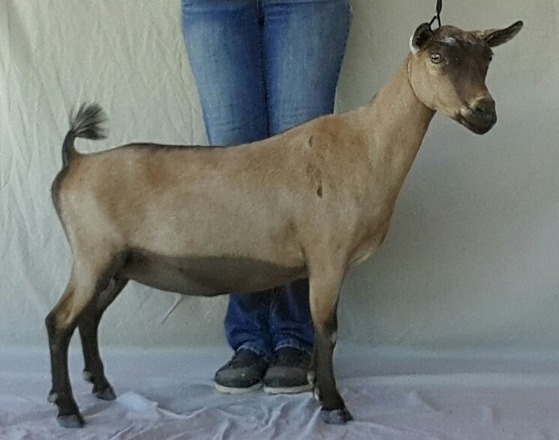 Dusty has returned after staying at Money Pit Farm for a couple years. She is an Algedi Farm Manuka Honey granddaughter by my doe SG 3*M Urban Acres MS Storm Sonata. She freshened this year with a single buckling for the first time with a really pretty, well attached udder. She is deep bodied, wide between the thurls into a long loin, back and uphill to sharp withers.
Sire: *B Owlhaven MH Rascal Flats
Dam: SG 3*M Urban Acres MS Storm Sonata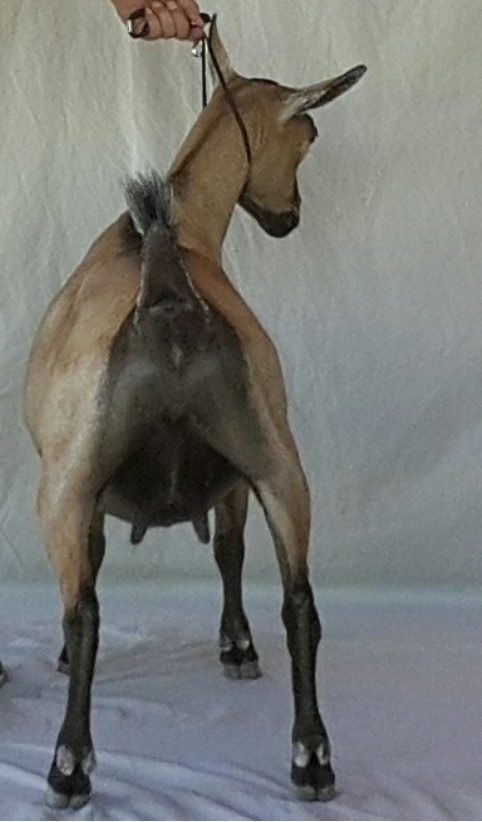 Grass Valley Temptress Maia
DOB 3/30/2019
While I was at Money Pit Farm helping with appraisals, I couldn't help but notice a very long, very dairy doe - Grass Valley Temptress. She had such a gorgeous well attached mammary with perfect teat placement. She had triplet blue eyed doelings and I had to bring one of them home. If she mirrors her dam after freshening, I will be well pleased.
Maia is striking with her blue eyes and dark color. She stands on upright pasterns, has such nice body width and depth. If she produces her dams udder, she'll be a knockout.
Sire: *B Dill's RD 8 Seconds AVV81
Dam: Grass Valley Temptress VEVE 89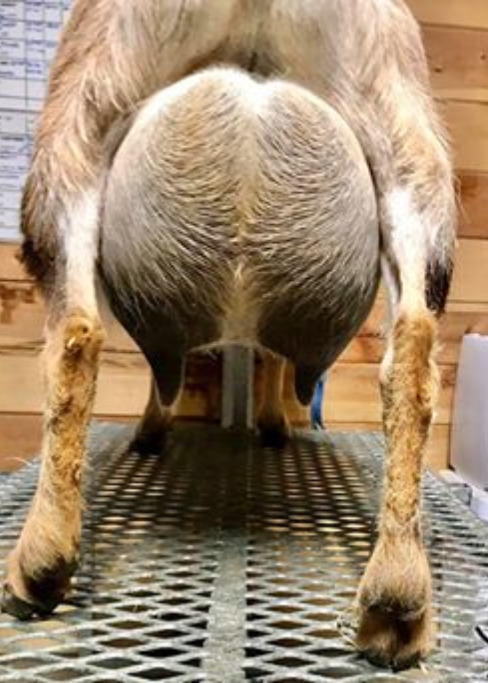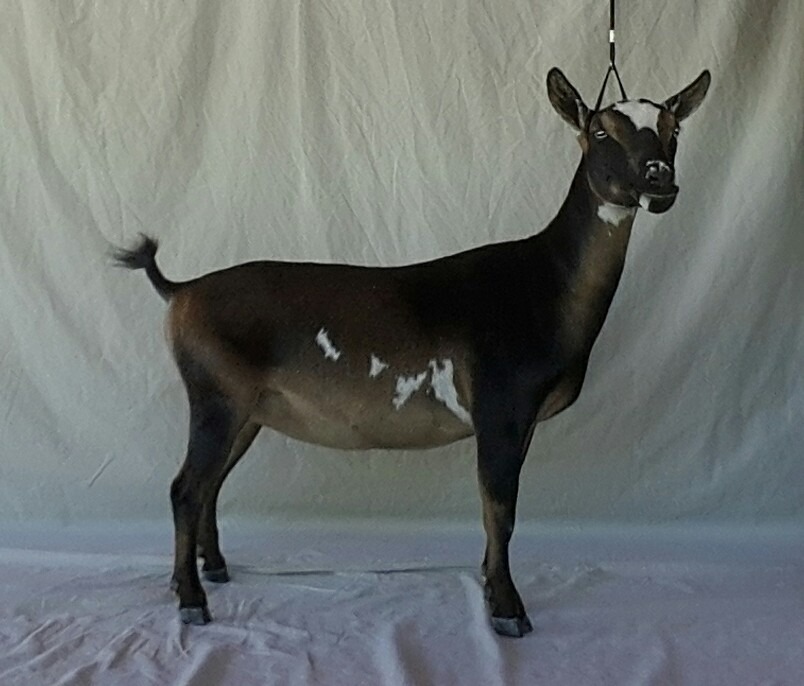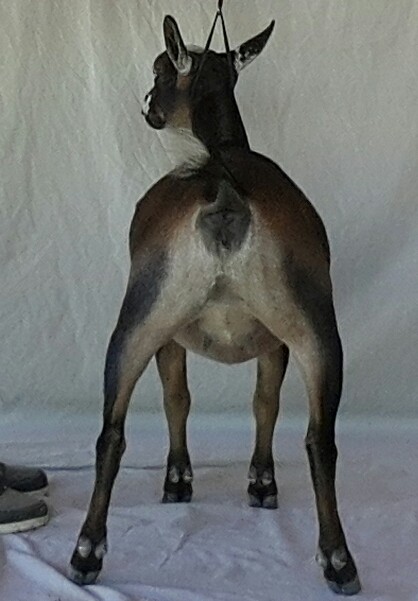 OllieMae Farm C Black Amber
Sire: *B OllieMae Farm HB Chladni
Dam: 1*M Paxsonkdz TS Say I Do ++EV 84
Amber is the result of a double line breeding on Zenith out of a Algedi Farm DJ Higgs Boson son. I like this buck so much and thought it would be an excellent cross on Sadie (listed above). So far so good. Improved shoulders and length of cannon bone. Just a well balanced and smoothly blended doeling. Looking forward to her first freshening udder.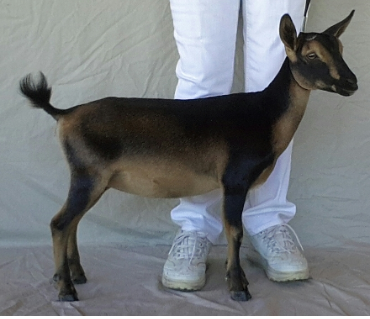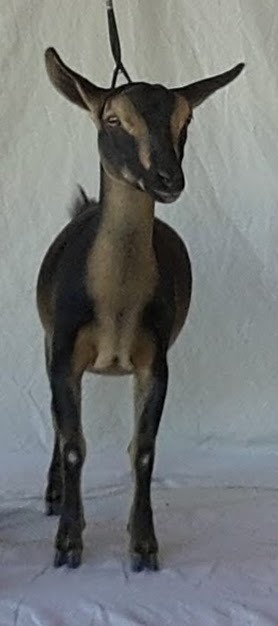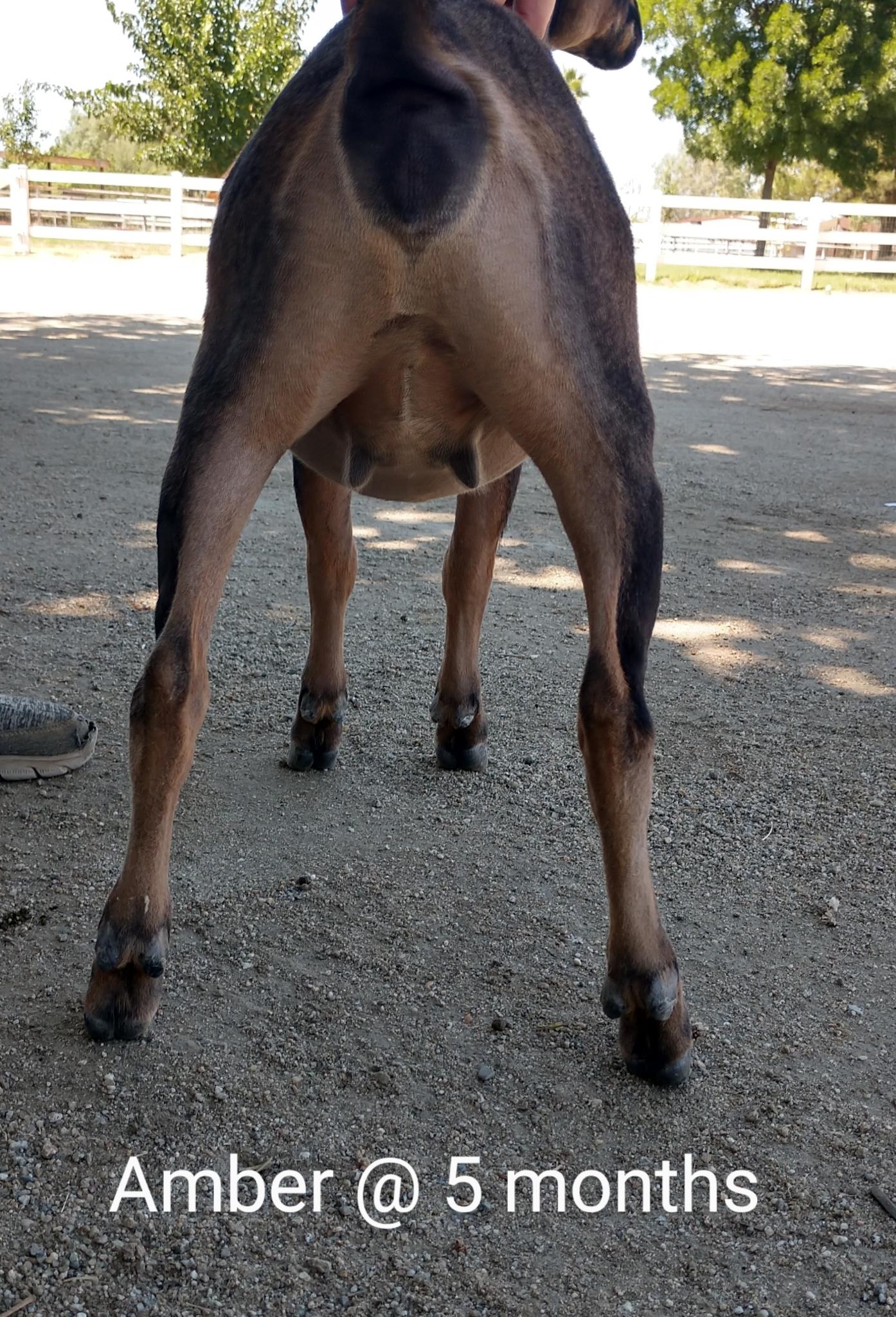 Sire: Ilenesrascals WP Tomo San
Dam: SG 3*M Urban Acres MS Storm Sonata VEEV 89
Jazzy as we call her, is such a nicely balanced little doe. Her dam Stormy is Superior Genetics with high scores in rump, width, back and mammary and is listed at the top of the page.
Her sire, Ilenesrascals WP Tomo San is a young sire combining some of the best of Urban Acres and Woodbridge Farm. She was born late in the year so breeding won't take place until fall of 2021.
Dam's udder
Urban Acres MS Storm Sonata
MoneyPit Farms$$ FN Chinook (Addie)
Sire: *B Angle Acres Flying High Falcon VEE 90
Dam: 4*M Shadewood MT Choteau ++A+ 80
Addie has such a nice topline with tight shoulders blending smoothly into a level back and rump. She has great brisket extension, spring of rib, width and depth of body. Such an elegant girl and a pleasure to see on the move. Her dam Choteau freshened at a young age with a beautiful well attached udder and has matured so nicely. I will be excited to see her in the spring.
Dam's udder
SHADEWOOD MT CHOTEAU

Photo courtesy of Money Pit Farm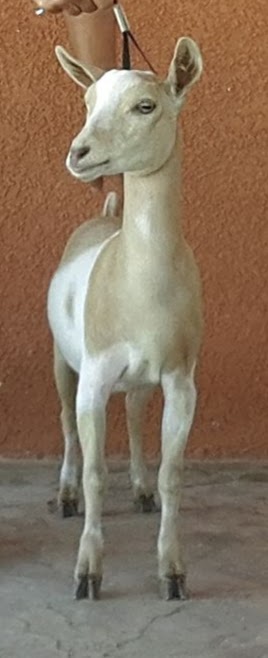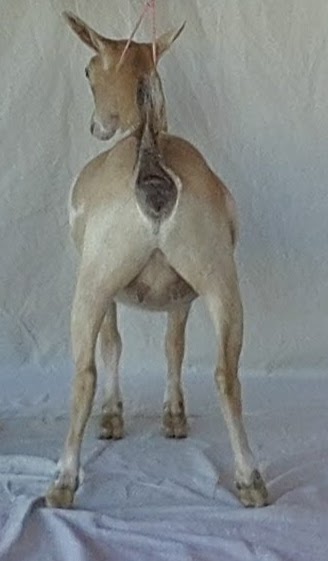 Sire: Grass Valley Beethoven VVV 86
Dam: Tres Rios WC Caramel Macchiato
Kona is a jet black doe with minimal white and what a beauty. Of the entire herd, she is the one who least likes to be set up for pics. She has a tendency to sink down into her shoulders and unfortunately make the transition from neck to withers look worse than it is. She's a very dairy doe, great width and spring of rib. Nice upright pasterns and open escutcheon with a long rump. Her dam freshened with a beautiful udder but died unexpectedly soon after kidding due to an unrelated health issue.
Her sire, Grass Valley Beethoven has consistently stamped his kids with rump width, udder arches and solid shoulder assemblies.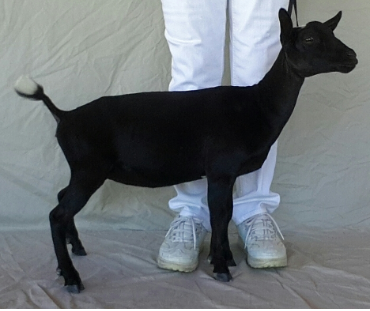 MoneyPit Farms$$ BT Lo Lo Lola
Sire: Grass Valley Beethoven VVV 86
Dam: OllieMae Farm RF Stella Blue
Lola is a very dairy girl with lots of length and elegance. Well balanced with level back and rump, width of chest and rump with nice brisket extension. Nice upright pasterns. Her dam Stella is a granddaughter of Manuka Honey and Storm Sonata listed above. All of the does on her paternal and maternal sides going back 3 generations have exceptional mammaries. Her Dam's first freshening udder is pictured below.
Dam's Udder
OLLIEMAE FARM RF STELLA BLUE

Photo courtesy of Money Pit Farm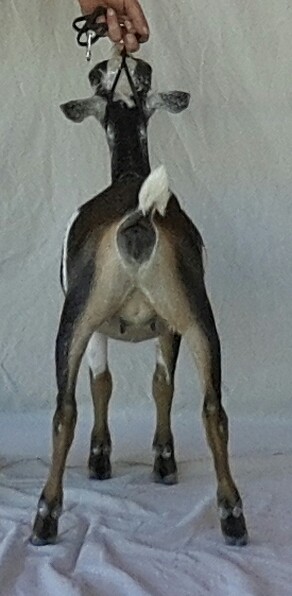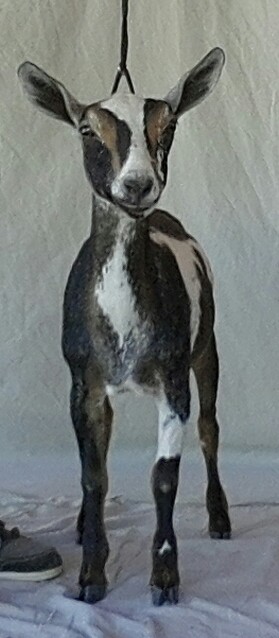 MoneyPit Farms$$ BDGoddessLuna
Sire: Goat Addiction Shotgun Bandit ++E 83
Dam: 1*M Grass Velley Twinkle Toes +V++ 82
Luna really catches your eye with that pretty head, level back and straight legs combined with great body capacity and spring of rib.
Her dam Twinkle has a very nicely attached udder, high rear udder, wide escutcheon and great rear leg angulation.
Her sire Bandit scored in the 30's for back, rump width and rear udder arch. He also scored excellent in body capacity. Both sire and dam were scored as 2 yr olds and are continuing to improve as they mature.