Our Herdsires
Click on Pictures to Enlarge
*B OllieMae Farm HB Chladni
Sire: *B CH Algedi Farm DJ Higgs Boson EVE 90
SS: ++*B GCH Algedi Farm Drops Of Jupiter EEE 91
SD: 3*M SGCH AGS Rosasharn's TL Zenith EEVE 90
Dam: 3*M SG Urban Acres Ms Storm Sonata
VEEV 89
DS: *B CH Camanna LI Moonlight Symphony V+V 86
DD: 2*M SGCH Urban Acres WC Rainy Day VEEE 90
'Chad' is one of twin bucks and I had to keep just one. The dairy skin and open ribbing was evident immediately. Chad has nice brisket extension, a level back, long loin and hip. Stellar genetics here out of a SG dam.
His sire, CH Algedi Farm DJ Higgs Boson is a Zenith son and is continuing the solid legacy of consistent progeny.
Chladni is half sibling to Hidden Hills HB River Blossom who has her dry leg and won Best Junior Doe in Show out of 115 in Chino 2019 and placed 4th at Nationals in her dry yearling class.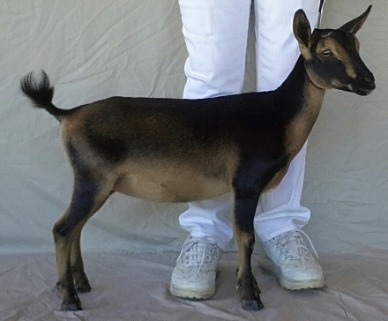 OllieMae Farm C Black Amber, Chads 2020 doeling (She was retained
and is also on the doe page)
Hidden Hills HB River Blossom Courtesy of Hidden Hills Nigerians
Ilenesrascals WP Tomo San

Sire: Wood Bridge Farm Promisclasact
SS: CH Wood Bridge Farm Undeniable
SD: CH Wood Bridge Farm Pets Promise VEVE 89
Dam: Urban Acres HK Trilli +V++ 82
DS: *B Urban Acres CRF-BI Henrik
DD: 2*M GCH Urban Acres ASD Tinker Bell VVEE 90
OllieMae Farm TS Jasumin, Tomo's 2020 retained daughter (also on the doe page.)
I saw the sale post for this buckling and knew I needed to bring him home. Tomo combined some of the lines currently here, but also added some new Wood Bridge lines I had long admired. Tomo stands on good feet and upright pasterns. He is long, long all over. Great shoulders, brisket and back. I am very happy to have him here. On the paternal side he is from a long line of some of the best Wood Bridge and Old Mountain have to offer. On the maternal side, GCH Urban Acres Tinker Bell and her daughter, Urban Acres HK Trilli. Thank you Ilensrascals for breeding such a nice buckling. He is a paternal half sibling to IlenesRascals Teacher's Hot, 3rd place junior yearling at Nationals and Wolfivan WP Patchouli, who placed 15th as a yearling milker.
IlenesRascals SD Jagermeister
Sire: Agape's Prize Saint Dismus
Dam: GCH DesertNanny Designer Cupcake *M*D EVEE 90
Thanks Ilene for this awesome little guy! Wonderful dairy skin, level back and rump, rear leg angulation, upright pasterns, spring of rib and brisket extension.
His dam Cupcake is a gorgeous doe, permanent champion, has 3 Grand Champion and 4 reserve Grand Champion wins. She scored excellent in shoulder, rear legs, back, rump, mammary and body capacity at 5 years old. I love the longevity the Desert Nanny lines provide.
His sire Billy is just a fabulous. His dam was the 2017 ADGA National Champion
SGCH Old Mountain Farm Merriment and sire is Old Mountain Cyrus Quinn the 2nd place get of sire at the ADGA nationals in 2017 and premier get of sire in 2018.
Jager is co owned with Kim at Money Pit Farms$$
So excited to see what this guy can do for both our herds.